Have you ever watched a movie and found yourself admiring the physique of its lead actor? Or gone to the beach and wound up gazing enviously at a toned body?
"God, she must live in the gym."
"I wonder how many plates he had to lift for that role?"
I'm gonna let you in on a little secret: many of the fittest people you see got that way from working out at home. And if they can do it, you can too.
You may be a little sceptical at this point, but hear me out…
The secret to making great gains
What's the secret to total fitness? Heavy weights? Crushing workouts? Mammoth cardio sessions? Nope, nope and hell no.
The secret to getting into great shape is forming good habits. Only by forming good habits will exercise become part of your daily routine. Once you get into the habit of working out regularly, everything else falls into place. Pretty soon, you'll be the one who's attracting admiring glances on the beach.
Working out at home instantly resolves two of the greatest barriers to getting fit: lack of time and lack of motivation. Forget getting caught in traffic while your hour in the gym diminishes. Forget the fear of being outlifted and out-flexed. (The truth is, no one's watching you at the gym, but that doesn't stop people from feeling self-conscious.) Forget the cost of entry – with a home workout, all you pay is the penny it costs to power your stereo.
When your home is your gym, your workout begins the moment you drop to the floor. You don't even need to lace your trainers.
"That's great but I don't have the space for a home gym. And besides, I couldn't afford all the equipment."
That's OK. I'm not expecting you to fill your spare room with steel plates. I'm not expecting you to cancel your gym membership either. (Provided you're actually using it, that is!) Having a local gym is great, but to increase your workout frequency, you're gonna have to start exercising at home.
Home workouts made easy
To help you develop those good habits, try downloading Adrian James 6 Pack Abs Workout. With no exercise equipment and no specialist knowledge required, you can bust out a 15-minute workout anywhere. And with points awarded for every workout you complete, you'll be incentivised to keep going. For a little extra motivation, get a mate over or invite a family member to join in your workout.
The secret to getting super fit may call for leaving the couch, but it doesn't call for leaving the house. If you're a gym user, start supplementing your sessions with short, frequent home workouts. You'll be amazed at the difference it will make to your physique. For everyone else, start at home with my fitness apps. Once you start seeing results, you'll swiftly gain the confidence to hit the gym, the beach and anywhere else you may care to roam.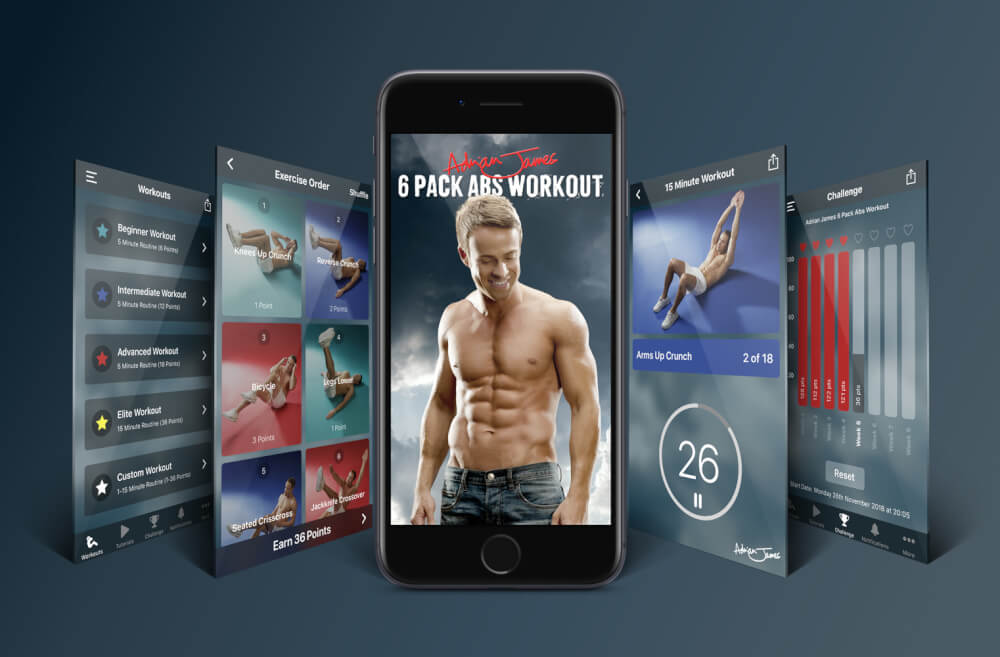 Fitness doesn't have to be complicated. Download Adrian James 6 Pack Abs Workout, press play and you're away. It's that simple.