MADE WITH PRECISION
ARE YOU READY TO TRANSFORM YOUR BODY?
Welcome to the Adrian James Body Transformation Challenge. It's time to get off the couch, break a sweat and leave your comfort zone behind.
Every workout you complete, and every healthy meal you cook will inch you closer to transforming your body. Whether it's to look good on the beach, boost your self-confidence or claim the £100 worth of Adrian James Nutrition supplements that are up for grabs. You pick the reason.
We'll provide all the rest: highly effective workouts, a tasty diet plan and 50% off Thermoblaze. It's the fastest way to improve your body tone, boost your energy levels and aid fat loss.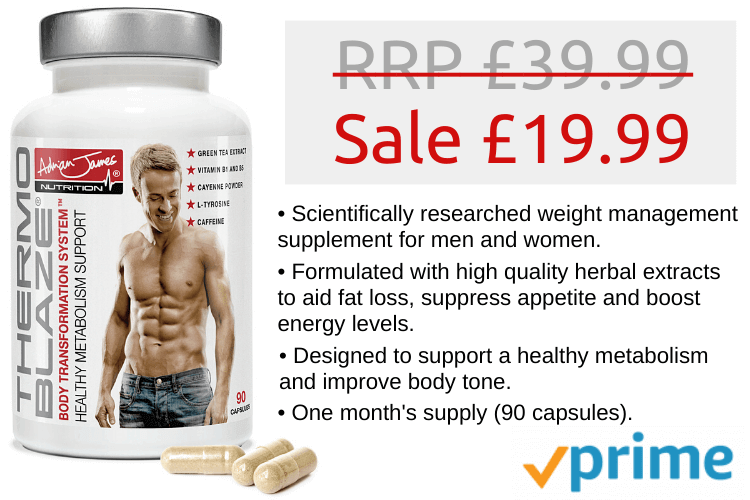 To enter, all you need to do is purchase some Thermoblaze, and once it arrives, whip off your top and get a pic of you posing with the product. After that, it's time to start training. Download our 15-minute bodyweight workouts, hit the gym or lace up your trainers and head for the hills – whatever works for you.
Eight weeks later, take your transformation photo and email us your results.
"Thermoblaze increased my energy levels, stripped fat and suppressed my appetite. I'm now in the best shape of my life!"
"The Adrian James Body Transformation Challenge was the motivation I needed to get into the best shape of my life!"
"It has been a life changing experience! I finally gained the body I always wanted and the confidence I lacked."
"After the first week I was already seeing results. A truly great challenge that I would recommend to anyone."
"It has been an amazing 8 weeks! I've got a ton more energy and am doing loads more with my time. It's been a real life changer!"
Where would you like to be eight weeks from now? If your answer is "In the best shape of my life", your time starts now. Get training and good luck. You can do this.