There's nothing better than a protein shake after a hard workout, but you can't ingest all your protein in liquid form. The next time hunger comes calling, try biting into a homemade protein bar. Low in sugar and high in protein, each bar forms a nutritious, delicious snack. What's more, you don't even have to preheat the oven: the following recipes require no baking. Just mix, cool and eat.
Crunchy peanut butter protein bars
Crunchy and filling, these peanut butter protein bars go down a treat. They're perfect as a grab-and-go breakfast or a post-workout snack.
240g crunchy peanut butter

40g chia seeds

2 scoops vanilla or chocolate whey protein

80g oat bran
Microwave the peanut butter in a bowl for 90 seconds then add the remaining ingredients. Mix everything into a thick paste and pour the mixture into a pan. Leave in the fridge for four hours, then slice into small bars and enjoy.
Chocolate flake protein bars
There's a lot of flavours lurking in this recipe and they're all good. The healthy fats and carbs will provide a steady release of energy, while the protein fills your stomach and feeds your muscles.
150g chopped walnuts

2 scoops chocolate protein powder

150g coconut flakes

450g peanut butter

45g oats
Microwave the peanut butter in a bowl for 90 seconds. In a separate bowl, combine all the dried ingredients and mix well. Add the peanut butter and mix until the ingredients have formed a doughy consistency. Press the dough into a large dish, top with shredded coconut and leave in the fridge for four hours. Once it's set, slice into bars and take a bite…or two or three.
Triple blast protein bars
Made with just three ingredients, these no-bake protein bars are the perfect snack when you're pressed for time. Use chocolate, vanilla or strawberry protein powder to suit your tastes. Healthy Whey, available in all three flavours, is ideal.
200ml almond or coconut milk

3 scoops of protein powder

90g oat bran
Combine the ingredients in a bowl and slowly add the milk until you obtain a thick consistency. Line a pan with baking paper, add the mixture into the pan and press firmly. Leave in the fridge for at least an hour. When it's ready, cut into bars and top with berries, coconut flakes or chopped walnuts.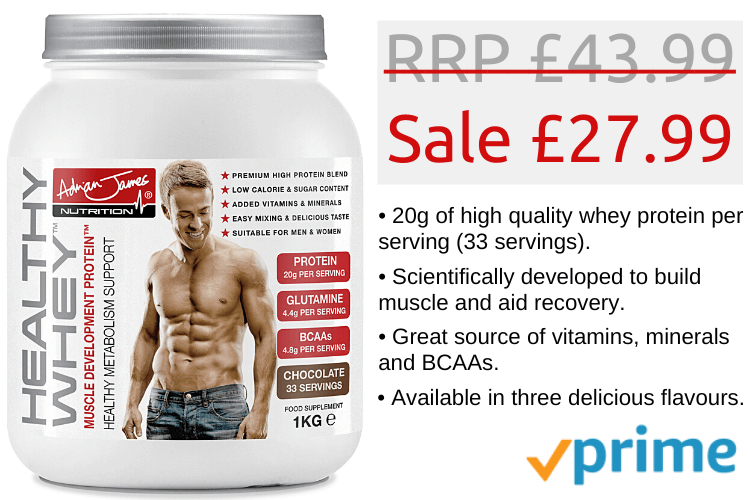 Cherry vanilla protein bars
Jam-packed with goodness, these no-bake protein bars taste just like cookies. They're ideal for those summer days when a light snack beats a hot meal.
70g dried cherries

3 scoops vanilla protein powder

1/2 tsp vanilla essence

90g oat bran

1 tbsp coconut milk

120g almond butter

100g shredded coconut

50g pumpkin seeds
Mix the dried ingredients in a bowl. Add the coconut milk, almond butter, dried cherries and vanilla essence. Line a baking dish with greaseproof paper, pour the mixture into the dish and press down firmly. Freeze for at least an hour before slicing into bars.
With a tub of whey protein, a handful of ingredients and a little imagination, you can make all kinds of healthy snacks. Rustle up a large batch and you can look forward to a protein-rich treat every single day.