Every athlete loves to receive a new batch of protein powder in the mail, eagerly tearing it open before pouring a delicious shake. However, protein doesn't just taste great as a shake: it's also a highly versatile cooking ingredient that can transform your puddings and pastries into healthy protein desserts.
The following protein recipes are healthy, tasty and quick to assemble. All you need are a few basic ingredients including a quality whey protein such as Healthy Whey, which is available in three delicious flavours – strawberry, chocolate and vanilla.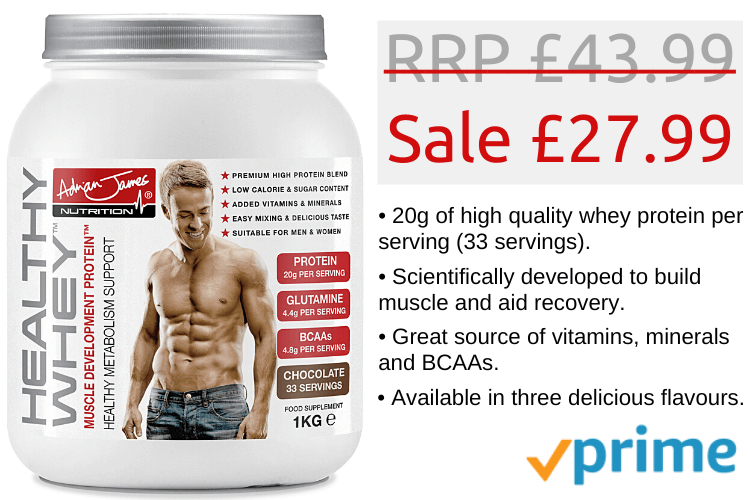 Peanut butter protein pancakes
Who could resist a batch of freshly baked pancakes made with vanilla protein and peanut butter? You'll also need two or three eggs, water and sugar-free syrup. Alternatively, the peanut butter can be replaced with almond butter. Mix everything in a blender and cook in a pan over a medium heat. For extra flavour, sprinkle a few strawberries or blueberries on top.
Oatmeal protein desserts
Oatmeal is an excellent source of fibre and complex carbs. While great at breakfast, it's just as good as a dessert. Add milk and one scoop of strawberry or chocolate protein. Microwave the oats and milk for three minutes, add the protein and sprinkle cinnamon to taste. You can also try mixing in a handful of your favourite fruit or nuts.
Cinnamon cake bars
Who says cake isn't healthy? This decadent dessert is low in calories and packs a ton of protein. All you need is 120g of oat or almond flour, two scoops of vanilla whey protein powder, one egg, four tablespoons of Greek yogurt, vanilla extract, cinnamon, one teaspoon of baking powder, one diced apple and 250ml almond milk.
Mix the dry ingredients in a bowl before taking a separate bowl and combining the remaining ingredients. Preheat the oven to 350 degrees. Mix the wet and dry ingredients until they form a thick paste. Pour the mixture into the baking dish, sprinkle cinnamon on top and bake for around 25 minutes. Let the cake cool before cutting it into pieces.
Banana pancakes
These fruit-flavoured pancakes will sate your hunger and boost your energy. Mix one or two scoops of vanilla whey protein, a banana, two or three eggs, 30g of coconut flakes and cinnamon in a blender before cooking in a pan. For a thicker consistency, add in some flax meal or oat bran while the mixture's cooking.
Caramel protein mousse
High in protein and carbs, this dessert makes for a great post-workout snack. Just make sure you use a quality protein powder, such as Healthy Whey, to obtain the mousse effect. For this recipe, you'll need 100 grams of cooked sweet potato, 60ml of water, 1 teaspoon of cocoa powder, one scoop of vanilla whey protein and sugar-free syrup. Blend, serve and enjoy.