If you're into fitness, you're into healthy eating; the two go hand in hand. But just because you want to eat well doesn't mean you always will. Sometimes the best intentions can go astray. When you're pressed for time or simply sapped of energy after completing an epic workout, cooking is the last thing on your mind. So don't cook. Grab a healthy protein snack and save yourself the washing up. The following options will fuel your body with all the right nutrients.
The grab & go: beef jerky
If you're out and about, a packet of beef jerky will tide you over until you can get your hands on something more substantial. With up to 15 grams of protein and less than 100 calories per serving, it's a quick, delicious snack that will fill you up in record time. This meaty treat also packs a lot of zinc, vitamin B12, iron, phosphorus, magnesium and other nutrients that support muscle growth and repair.
The energiser: high-protein coffee
Regular coffee isn't known for its protein content, but this isn't regular coffee. It's an energising wake-up call that will revive your tired eyes and tired muscles. Mix two shots of coffee, a scoop of vanilla Health Whey protein and ice in a blender. (Chocolate protein also works well.) With a scoop of Healthy Whey providing 20 grams of premium protein, your caffeinated shake hits all the right macros. Just don't drink it too late at night!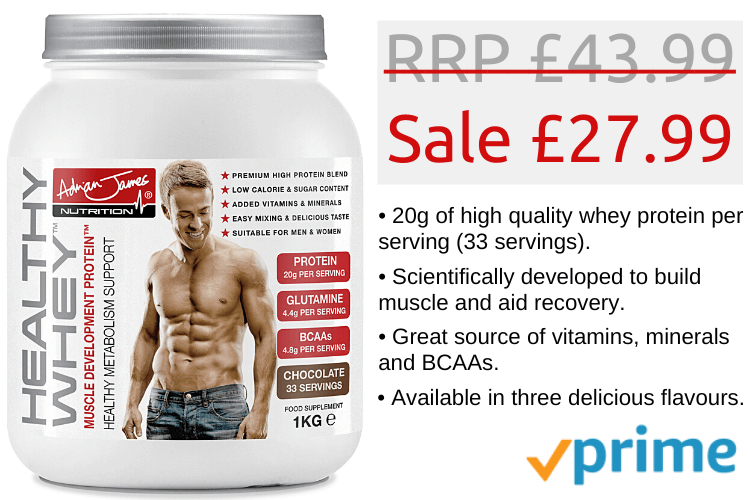 The pre-planner: homemade trail mix
Trail mix is a smart choice if you're looking to get more protein and healthy fats into your diet. Unfortunately, store brands are packed with added sugars, raisins, palm oil and artificial flavours. It takes minutes to make your own trail mix, so prepare a large batch for the week ahead. Simply throw some pumpkin seeds, sunflower seeds, almonds, walnuts and other raw nuts into a tray, bake for 10-15 minutes and portion them into single servings. Add vanilla essence, raw cocoa or a teaspoon of honey for extra flavour.
The quick & easy: banana crunch
This one's so easy that to call it a recipe would be stretching the truth. Banana crunch may be simple but it's also delicious – and rich in protein of course. Put four tablespoons of Greek yoghurt in a bowl, add sliced banana and finish with a teaspoon of peanut or almond butter. One serving contains 270 calories, 8 grams of fat (5 of which are healthy fats), 25 grams of carbs and a quarter of your daily calcium. Prep time: under a minute.
The filler: protein shake with oat bran
A trusty protein shake is the fastest way to fuel your body with protein, but it won't sustain you for long. To make your shake go further add in flax seeds and oat bran. You'll get over 25 grams of protein along with complex carbs, omega-3s and fibre that will keep you fuller for longer. You can also pour this mixture into a baking tray to make a quick, high-protein cake or use it for pancakes. Sprinkle raw nuts and seeds on top and you'll get a delicious crunchy crust.
No time to cook? No problem. With little more than a handful of ingredients, you can rustle up a nutritious snack in less time than it takes to warm the oven.