MADE WITH PRECISION
ARE YOU READY TO TRANSFORM YOUR BODY?
If you like the idea of getting into shape – without giving up your life in the process – try the Adrian James Body Transformation Challenge. It promises to be the most intense but rewarding eight weeks you'll ever experience.
To enter, all you need to do is purchase our highly rated thermogenic fat burner, Thermoblaze. It's backed by extensive research to support a healthy metabolism, helping you reach your body transformation goal in record time.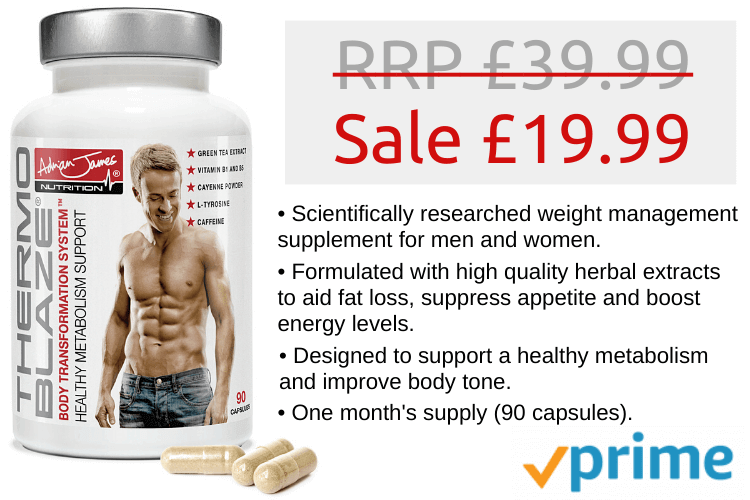 Once your Thermoblaze arrives, whip off your top and get a pic of you posing with the product. After that, it's time to start training. Download the chart-topping Adrian James fitness apps and activate the eight-week challenge found in each app.
"Thermoblaze increased my energy levels, stripped fat and suppressed my appetite. I'm now in the best shape of my life!"
"The Adrian James Body Transformation Challenge was the motivation I needed to get into the best shape of my life!"
"It has been a life changing experience! I finally gained the body I always wanted and the confidence I lacked."
"After the first week I was already seeing results. A truly great challenge that I would recommend to anyone."
"It has been an amazing 8 weeks! I've got a ton more energy and am doing loads more with my time. It's been a real life changer!"
Eight weeks later, take another pic – your transformation photo. Email your before and after pictures, and for completing your fitness journey, you'll be rewarded with £100 worth of Adrian James Nutrition goodies of your choice.
Where would you like to be eight weeks from now? If your answer is "In the best shape of my life", your time starts now. Get training and good luck. You can do this.